At CITY CHURCH BELFAST we are actively engaged in global mission – reaching out to our neighbours in Belfast and in nations across the world. As we seek to fulfil God's mission, we know him more and experience the life-changing joy of seeing others begin to know him.
Some of our members are involved in cross-cultural mission and have come from abroad to work with us in the city, or have been sent out to work with other churches and mission agencies in different parts of the world.
COMING TO BELFAST
It is a privilege for us to be able to welcome Carlos Neto, Michelle Marques and their children (Yan and Gabriel) from Brazil who have come to volunteer with us in Belfast for three years. They  have been sent by their sponsored church in Recife.
GOING FROM BELFAST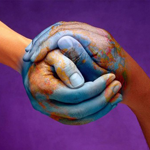 We currently support two families from City Church Belfast who are living in India and North Africa, and another working for a ministry which focuses on encouraging Christians in countries across the world. Several people from the church are also involved in short-term mission.
Find out more about some of the agencies we have connections with by clicking on the following links: